Online business programs
Education to inspire, encourage and empower
Request Information
Complete this form to receive information about coursework, admissions, tuition, and more.
Find your place in the world of business
At Brenau University, we take the success of our students seriously. Our business programs, ranging from professional certificates to master's degrees, are designed to teach you the skills necessary to thrive in the ever-growing business field.
During your course of study at Brenau, you'll work with experienced faculty who will guide you every step of the way. Our classes are built to fit your busy lifestyle and will help you get started or take the next step in your career.
Brenau University is fully accredited by the Southern Association of Colleges and Schools (SACS)
Overall employment in business and financial occupations is projected to grow 7% from 2021 to 20311
The median annual wage business and financial occupations was $76,570 in May 2021, which was higher than the median annual wage1
Both BBA and MBA programs are accredited by the Accreditation Council for Business Schools and Programs (ACBSP)
A variety of practical programs
Our certificates, undergraduate and graduate degrees offer professional curriculums designed to get you on the business career path that's right for you.
Business administration programs
Learn to succeed in the business world with our expert-taught business programs. The undergraduate option will give you a solid foundation of knowledge and graduate option will help open more career paths with 14 industry-driven concentrations.
Bachelor of Business Administration
Master of Business Administration
Organizational leadership programs
Build your leadership skills across many disciplines to prepare for a wide range of exciting work opportunities. Through a real-world driven curriculum in a undergraduate or graduate program, you will develop into the leader your organization needs.
Bachelor of Arts in Organizational Leadership
Master of Science in Organizational Leadership
Accounting programs
Get exposure to the advanced knowledge and skills for success in the public accounting field. Our graduate certificate is a great way to gain foundational knowledge and our graduate program is designed to prepare you for the CPA exam.
Accounting Certificate
Master of Accounting
Business analytics programs
Apply formal training in the areas of data mining, statistics, and strategy to make your next career move in the world of business. This programs practical curriculum will give you the competitive advantage you need.
Business Analytics Certificate
Finance programs
Learn to make smarter decisions in the workplace with a professional certificate in finance. Whether you're just starting your career or looking to advance it, this certificate will set you in the right direction.
Management programs
Equip yourself to become an effective leader in today's increasingly global, competitive and fast-paced work environments with a certificate in management. With options in management, human resource management and project management, you'll find the certificate you need to meet your professional goals.
Management Certificate
Human Resource Management Certificate
Project Management Certificate
Marketing programs
Learn to apply cutting edge marketing techniques to advertise, position and sell products. The skills developed in this program will help you in a variety of exciting industries.
Digital Marketing Certificate
Non-profit leadership programs
Grow as an effective entrepreneurial leader with our online graduate certificate. This program will help you on your path to becoming the leader your non-profit organization needs.
Non-Profit Leadership Certificate
Strategic thinking and innovation programs
Learn to inspire creative ideas from your teams as well as how to implement those ideas within your organization. This certificate can also give you qualifications that supplement an existing bachelor's degree.
Strategic Thinking and Innovation Certificate
About us
Brenau University is a private, nonprofit institution accredited by the Southern Association of Colleges and Schools Commission on Colleges to award associate, baccalaureate, master's, specialist and doctoral degrees.
We are committed to empowering our students to prepare them for their chosen path. At Brenau, we care about your success and are here to help you fulfill your potential and make a positive impact on the world.
Request Info
Online learning
At Brenau, you will learn in small classes, which gives you plenty of opportunities to ask questions and receive one-on-one support from your professors. With flexible scheduling and online delivery, we make education fit into your busy life. Our programs respond to the needs of today's students, so you'll receive the education you need to become a leader who makes a difference. From here, you can.
A curriculum designed to get you places
Our online business programs are built to prepare you to either start or advance your career with confidence. Taught by expert faculty with experience in their fields, these courses will expose you to exciting principles in marketing, leadership, management, finance and more.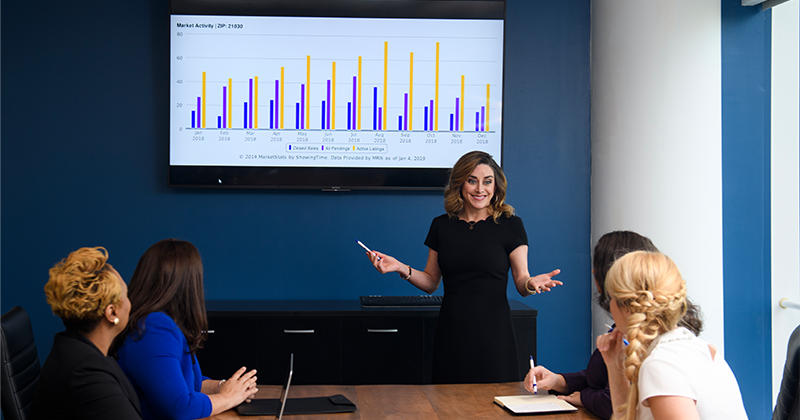 Want to have a fulfilling business career? You will.
Finding your career path in business can be daunting, but with the right education, you'll stand out from the crowd. The steady increase in business and finance jobs is expected to result in about 715,100 new jobs over the decade1, so developing professional skills is key.
Top careers for business graduates
Business Owner
Financial Analyst
Marketing Specialist
Accountant
Project Management Specialist
Source
"Occupational Outlook Handbook: Business and Financial Occupations." Bureau of Labor Statistics. Retrieved on January 25, 2023 from https://bls.org/.